Alayna Danner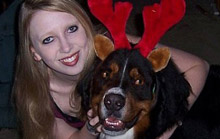 Alayna Danner is a freelance illustrator & concept artist based in Seattle, Washington. She has worked for a number of clients, including Wizards of the Coast, Alderac Entertainment Group, Cryptozoic, Troll Lord Games, Rio Grande Games, Catalyst Games Lab, and more. Her work has been featured on the covers of board games, book covers & interior illustrations, card games, magazine covers, etc. She created all visual components to several Rio Grande Games' board games, including Temporum, Elfenroads (2015) and Alan's Adventureland.
Alayna will be selling prints at the GenCon Art Show in 2016.
Alayna's resume can be found here.
For commission, prints, or freelance inquiries, please e-mail Alayna.